Farmers Market
Saturdays from 8AM - 1PM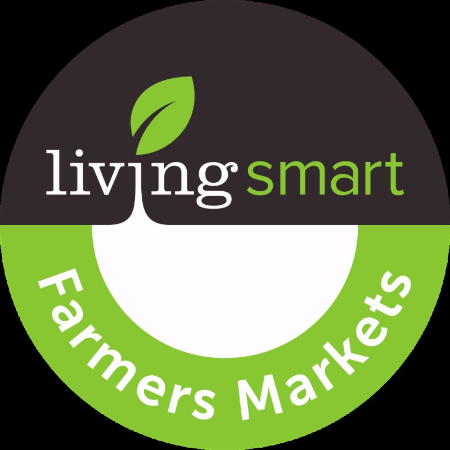 Sunrise Mall's Farmers Market is open every Saturday from 8 AM to 1 PM, rain or shine, in the parking lot behind Sears.
Presented by The Living Smart Foundation, the Farmers Market offers an abundant variety of farm-fresh produce, flowers, eggs, artisan cheeses, baked goods, grass-fed beef and so much more, all provided by certified farmers and vendors. Plus enjoy cooking demonstrations and contests, live musical entertainment and other special events.
Visit ilovemyfarmersmarket.com for more information about the Farmers Market and their non-profit organization specializing in providing youth financial, business and career education programs.
Second Saturdays Artisan & Craft Fairs - Find hand-made and specialty items from local artisans and crafters.
Visit Santa!
November 18, 2016 - December 24, 2016
Visit Santa!
Santa Claus will make Sunrise Mall in Citrus Heights his home for the holidays from November 18 – December 24, 2016, and Santa will be available for visits and photos daily in the JCPenney Center Court. Photo hours below.
And as is the Sunrise Mall tradition of making every Santa photo experience fun and convenient, the Virtual Photo Line and FREE $20 Shutterfly Promo Card with any photo package, increases everyone's opportunity to save time (not wait in long lines!) while capturing memorable Santa photos to share with family and friends.
The Virtual Photo Line saves shoppers time and eliminates the long lines and wait time, allowing more time for holiday shopping before or after a visit with Santa! Choose one of these options to enter the line:
Text "cherry hill photo" to 412-502-5187

Call 844-64-SANTA

Click HERE and check the live "wait time" starting November 18

Visit Santa in the JCPenney Court
Traditional "Stand-in-line" only on December 24.
Pet Photo Nights: Bring your furry friends for fun photos with Santa on Wednesday, December 7 and December 14 from 5-9PM
SANTA HOURS:
November 18-November 23: 11AM-7PM
November 25-26: 8AM-8PM
November 27-December 1: 11AM-8PM
December 2-8: 10AM-8PM
December 9-10: 9AM-9PM
December 11: 9AM-6PM
December 12-23: 9AM-9PM
December 24: 9AM-5PM
Santa takes a break to feed his reindeer from 1:00-1:30PM and 5:00-5:30PM.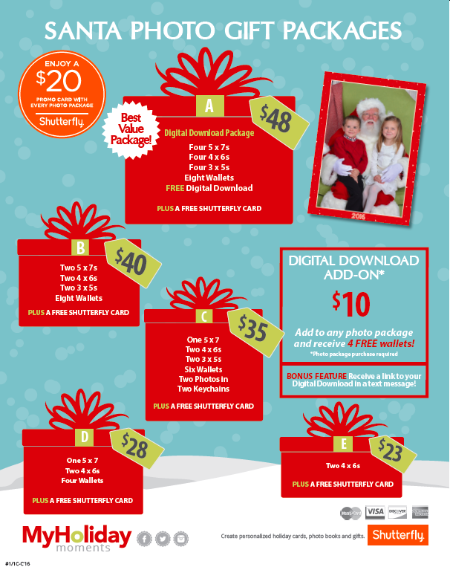 Santa is Powered by Metro PCS. Santa photos by Cherry Hill Photos.
Enter to Win A Home Visit From Santa!
Through December 7th!
Enter to Win a Home Visit from Santa: November 18 – December 7. Visit the Santa Set to enter a drawing to win a home visit from from the Jolly Ol' Elf himself on December 11. One winner will be drawn on December 8. No purchase necessary. Must be 18 years or older to enter. Visit must be within 30 miles of Sunrise Mall. Contest rules and restrictions available at the Mall Management Office or HERE!
Angel Trees
November 25, 2016 - December 17, 2016
Make a child's wish come true this holiday season!
Choose a tree tag, purchase the requested gift from Sunrise Mall and return the gift along with the tree tag to the Angel Tree area located near Macy's Women's Store.
Sunrise Mall is once again delighted to to support The Salvation Army Angel Trees. Happy Holidays!
Sounds of the Season
November 25, 2016 - December 21, 2016
Strolling carolers, musical acts and a group saxophone performance will delight and entertain shoppers at Sunrise Mall this holiday season.
Black Friday Weekend: Friday - Sunday 1-3PM; 5-7PM Carolers
Wednesday, November 30 5-7PM Carolers
Saturday, December 3 1-3PM Carolers; 4-5PM Proscenium Performance; 5-6PM A Saxophone Christmas
Sunday, December 4 1-3PM Carolers
Wednesday, December 7 5-7PM Carolers
December 10-11 1-3PM Carolers
Wednesday, December 14 5-7PM Carolers
December 17-18 1-3PM Carolers
Wednesday, December 21 5-7PM Carolers
Gift Wrapping
November 26, 2016 - December 24, 2016
Make the holidays a little easier and get your gift wrapping done by the Bella Vista Jr. Broncos! Donations benefit local schools sports programs. Located across from Mrs. Fields near JCPenney
Gift Wrapping Hours:
Saturday, November 26 9AM - 10PM
Sunday, November 27 10AM - 8PM
Friday, December 2 10AM - 9PM
Sunday, December 4 10AM - 8PM
Saturday, December 10 9AM - 11PM
Sunday, December 11 9AM - 9PM
December 12-16 9AM - 10PM
December 17-23 9AM - 11PM
Saturday, December 24 9AM - 6PM
Holiday Blood Drive
Friday, December 23, 2016 NOON - 6PM
Help give the gift of life by donating blood with Sacramento BloodSource.
The blood drive will be located in the Sunrise Mall parking lot near Elephant Bar.
Friday, December 23rd
Noon to 6PM