Classic, and Hot Rod Get-Together at Sunrise Mall!
6/26/14. 7/31/14. 8/28/14. 9/25/14. 10/30/14
Cappuccino Cruisers and The Red Robin Restaurant present a Vintage, Classic, and Hot Rod Get-Together at Sunrise Mall!
Enjoy cool cruisin' music, awards and raffles!
Plus grab a bite to eat at Red Robin and do some shopping at Sunrise Mall!
Last Thursday of every month from 5pm - 9pm on
June 26th, July 31st, August 28th, September 25th, and October 30th.
For more information call Ray or Chris at 916.98.6376 or visit capcruz.com.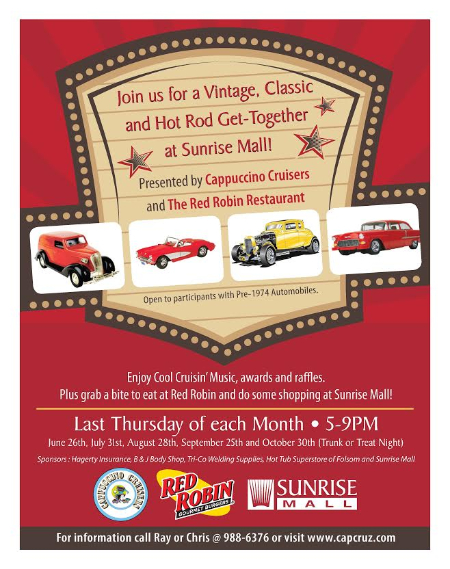 BloodSource Blood Drive
8/22/14 - 8/24/14
Please join BloodSource on August 22nd through August 24th for the Sunrise Mall Community Blood drive. Come donate and receive a free movie ticket for your donation!
Friday, August 22nd, 12pm - 6pm
Saturday, August 23rd, 11am - 4pm
Sunday, August 24th, 12pm - 4pm
Located in the parking lot near Elephant Bar. No appointment necessary.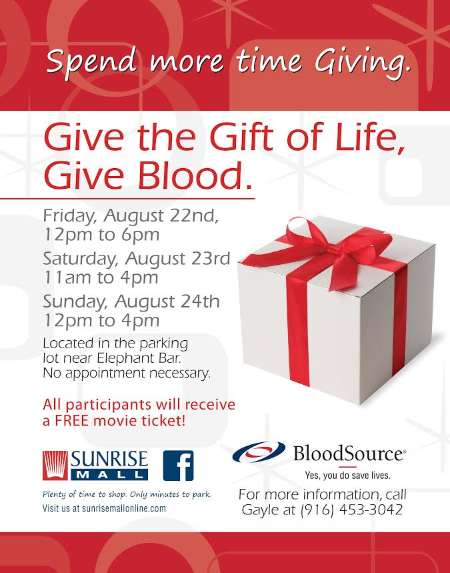 Radio Disney Back To School Bash
8/30/14 12:00pm - 1:30pm
Join us for some fun at Radio Disney Sacramento's Back to School Bash at Sunrise Mall in the JCP Court on Saturday, August 30th from 12:00pm -1:30pm!
Enjoy activity stations, giveaways and much more! Plus fill backpacks with school supplies for the local Boys and Girls Club!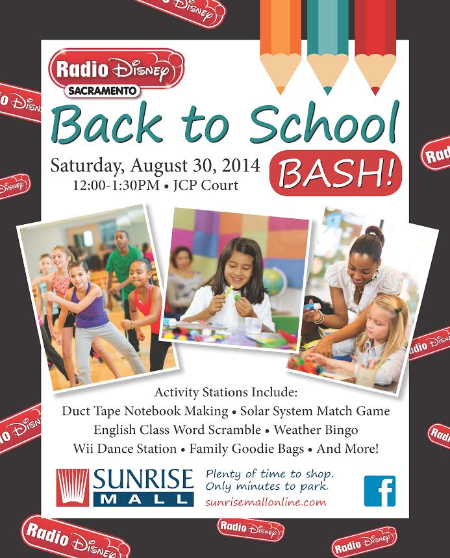 Bridal Expo September 2014
September 2014
Bridal Expo September 2014 9/6/2014 - 9/7/2014
Looking to start planning the BIG DAY? Need some new fresh ideas, or just to see what the new wedding trends are? We've got you covered! Visit Sunrise Mall for the September 2014 Bridal Expo! Enjoy over 50 wedding exhibitors, live music, fashion shows, and more!
For more information visit: Bridal-Expos.com or call
916.392.5000.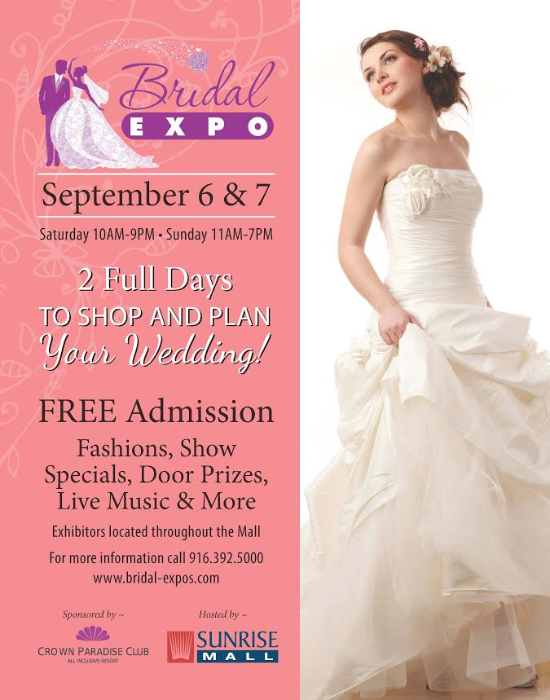 Circus Vargas At Sunrise Mall
9/11/14 - 9/15/14
Come one, come all!
Sunrise Mall is proud to host Circus Vargas from September 11th -15th! Bring the whole family for a fun and magical experience! Enjoy aerialists, acrobats, magicians, clowns and more!
Sponsored by the Ben Ali Temple and benefiting Shriner's International.
For more information visit www.circusvargas.com or call 877-GOTFUN1. Tickets available for purchase soon!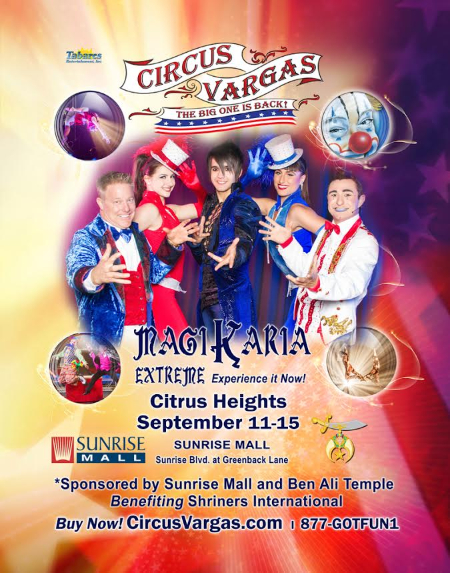 Citrus Heights Police Department's Traffic Safety Day & Police Motorcycle Skills Challenge
9/20/14 9am - 4pm
Citrus Heights Police Department's Traffic Safety Day & Police Motorcycle Skills Challenge
Saturday, September 20, 2014 from 9am to 4pm
Sunrise Mall Parking Lot Off Sunrise Blvd.
Police motorcycle officers from the Western states will demonstrate their riding skills in a timed challenge competition course! You won't want to miss this!
Also enjoy fun activities such as a bicycle safety skills rodeo and other demonstrations, kids' crafts, a jump house and more! FREE for the whole family!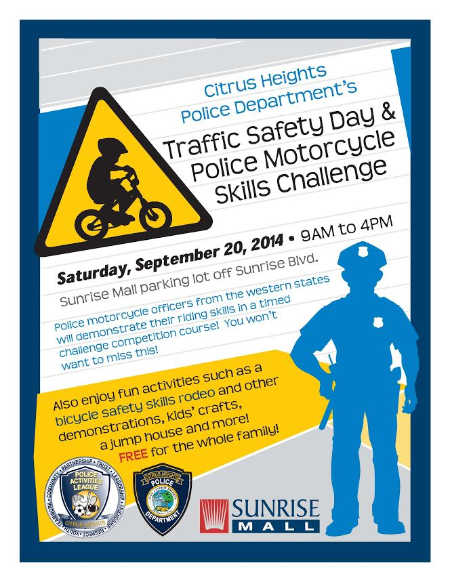 Farmers Market
Saturdays 8AM to 1PM
Sunrise Mall's Farmers Market is open every Saturday from 8AM to 1PM, rain or shine, in the parking lot behind Sears.
Presented by BeMoneySmartUSA, the Farmers Market offers an abundant variety of locally grown farm-fresh produce, flowers, eggs, artisan cheeses, baked goods and so much more, all provided by certified vendors. Plus enjoy cooking demonstrations and contests, live musical entertainment and other special events including
Visit www.bemoneysmartusa.org for more information about the Farmers Market and their non-profit organization specializing in providing youth financial, business and career education programs.