Sunrise Mall Story Stop
Every Thursday At 11:00AM
Sunrise Mall Story Stop!
Join Sacramento Public Library for Family Storytimes on Thursdays at 11AM.
Come for free family fun, stories, songs, movement and more! For children ages 0-5 and their parents or caregivers.
No storytime on Thanksgiving Day November 27th, Christmas Day December 25th, or New Years Day January 1st.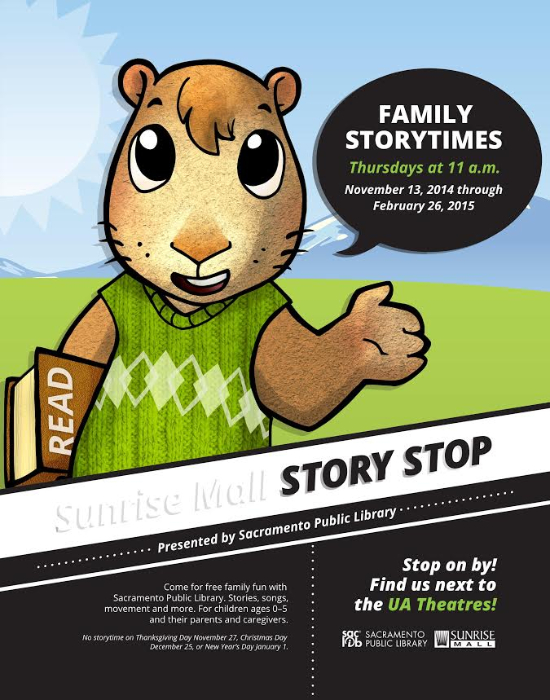 Santa & Holiday Photos
11/21/14 - 12/24/14
Take a classic Santa picture or a holiday photo with your special someone or family, co-workers or a group of friends for a special holiday memory this year!
Visit Santa in just 10 minutes or less….Absolutely! Choose from three ways to enter the Sunrise Mall Virtual Photo Line and just show up when it's your turn!
1. Click on the "Santa Link" on the home page
2. Stop by the Santa Set at Sunrise Mall and give the host your cell phone number
3. Text toll-free 516-537-XMAS (9627)
* Virtual line November 21 - December 23, 2014 only. Traditional Wait-in-Line December 24, 2014.
Pet Photo Nights!
Bring your furry friends for a picture with Santa on December 9th and December 16th from 4 PM to 7 PM!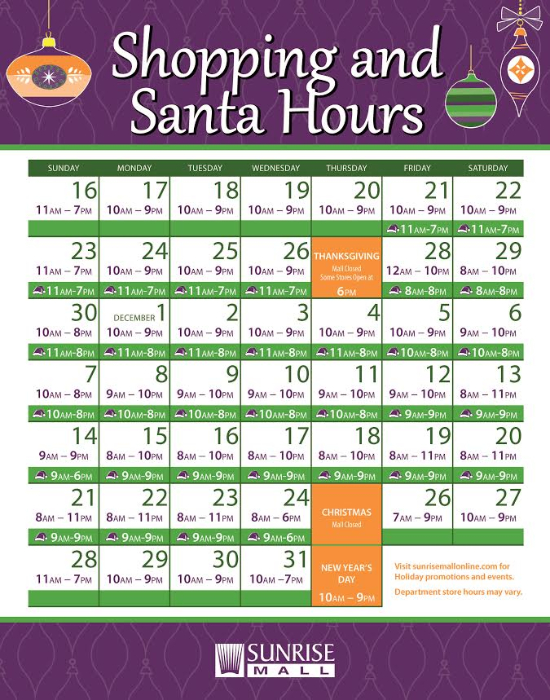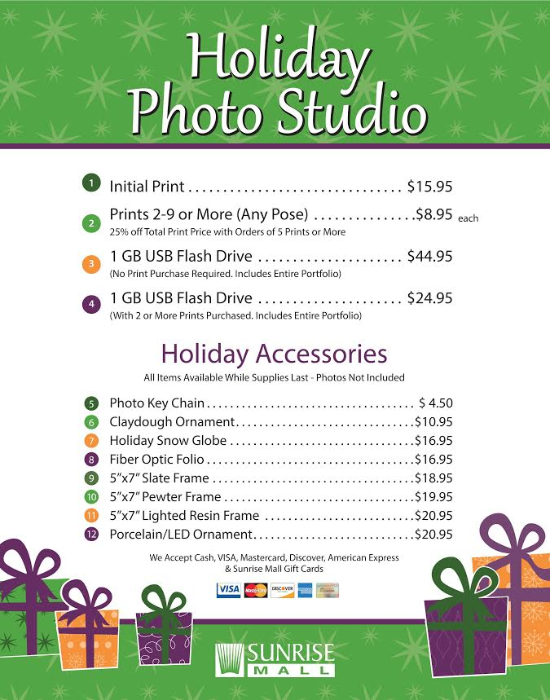 Holiday Gift Wrapping
11/29/14 - 12/24/14
Looking to have some gift wrapping done? No time with your busy holiday schedule? No worries! Come visit the Sunrise Mall for your gift wrapping needs! The Bella Vista Jr. Broncos will be wrapping gifts for donations across from Mrs. Fields. Donations will benefit and support this local sports program!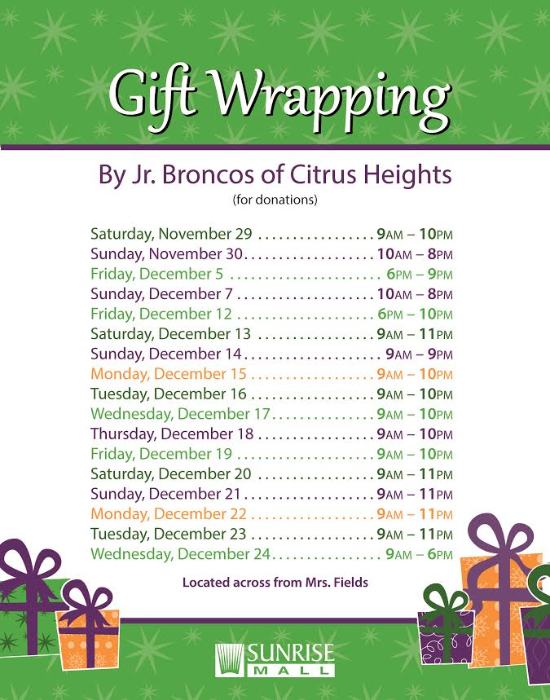 BloodSource Blood Drive At Sunrise Mall
12/24/14 10am - 2pm
Please join BloodSource on December 24th for the Sunrise Mall Community Blood drive. Come donate and receive a free movie ticket for your donation!
Wednesday, December 24th
10am - 2pm
Located in the parking lot near Elephant Bar. No appointment necessary.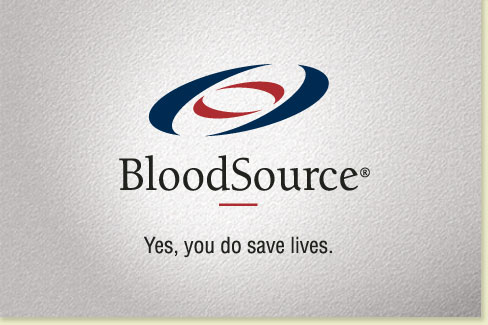 Farmers Market
Saturdays 8AM to 1PM
Sunrise Mall's Farmers Market is open every Saturday from 8AM to 1PM, rain or shine, in the parking lot behind Sears.
Presented by BeMoneySmartUSA, the Farmers Market offers an abundant variety of locally grown farm-fresh produce, flowers, eggs, artisan cheeses, baked goods and so much more, all provided by certified vendors. Plus enjoy cooking demonstrations and contests, live musical entertainment and other special events.
Visit www.bemoneysmartusa.org for more information about the Farmers Market and their non-profit organization specializing in providing youth financial, business and career education programs.